Discovering the World . . . via Its Most Dangerous Buses, Boats, Trains, and Planes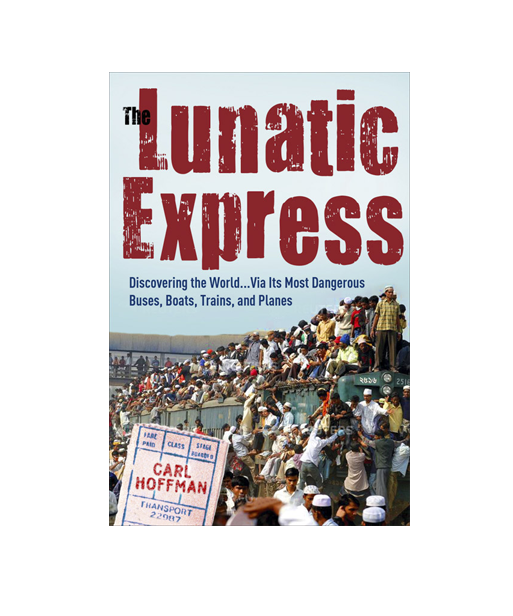 Indonesian Ferry Sinks. Peruvian Bus Plunges Off Cliff. African Train Attacked by Mobs. Whenever he picked up the newspaper, Carl Hoffman noticed those news bulletins, which seemed as far from tourism as it was possible to get.
So off he went, spending six months circumnavigating the globe on the world's worst conveyances: the statistically most dangerous airlines, the most crowded and dangerous ferries, the slowest buses, and the most rickety trains.
The Lunatic Express takes us into the heart of the world, to some of its most teeming cities and remotest places: from Havana to Bogotá on the perilous Cubana Airways. Lima to the Amazon on crowded night buses where the road is a washed-out track. Across Indonesia and Bangladesh by overcrowded ferries that kill 1,000 passengers a year. On commuter trains in Mumbai so crowded that dozens perish daily, across Afghanistan as the Taliban closes in, and, scariest of all, Los Angeles to Washington, D.C., by Greyhound.
The Lunatic Express is the story of traveling with seatmates and deckmates who have left home without American Express cards on conveyances that don't take Visa, and seldom take you anywhere you'd want to go. But it's also the story of traveling as it used to be — a sometimes harrowing trial, of finding adventure in a modern, rapidly urbanizing world and the generosity of poor strangers, from ear cleaners to urban bus drivers to itinerant roughnecks, who make up most of the world's population.
More than just an adventure story, The Lunatic Express is a funny, harrowing and insightful look at the world as it is, a planet full of hundreds of millions of people, mostly poor, on the move and seeking their fortunes.
"…a wise and clever book, funny, warm and filled with astonishing characters. But it also represents an important exercise, casting an Argus-eye on a largely invisible but un-ignorable world. It is thus a book that deserves to be read widely."

"Anyone who has ever griped about freeway traffic or being elbowed on the subway should spend some time with Carl Hoffman's book. I'm glad he made it back in one piece to write this tribute to the millions who every day endure what most of us don't care to imagine."

"Carl Hoffman has reinvented the travel log as the supreme theater of paradox. … his travels are a search for an unholy grail—something freakish; something dangerous; something authentic. Forget the inoculations. Disregard protection. Take this ride, and find the way to interconnectedness, verity and understanding."

"Carl Hoffman's clever, fearsome book takes us into the frantic fear and pitiless extinctions that punctuate the simple struggle to get from home to anywhere, for so many of the world's people. But it also takes us into the heart of the writer: and that journey, with its beauty and compassion, its conscience and courage, is so thrilling that we hope the ride never ends."

"The Lunatic Express transcends its masochistic premise to reward readers with an adventurous, humorous, insightful and improbably inspiring narrative."

"Hoffman has an uncanny ability to capture the colorful host of characters encountered on the road…"

"Hoffman gathers insights into the fortitude of third-world travelers, his own competing yearnings for domestic stability and adventure, and the brutal economics of mass transportation in impoverished parts of the globe."

"With adventure, danger and self-discovery in one insightful package, The Lunatic Express is Eat Pray Love for men. But don't worry. Women will enjoy it, too."

"So worth reading. Read it, give it, live it, learn it."
latest book

A Strange and Terrible Journey Into the Upside-Down World of Trump's MAGA Rallies

Read More

last book

A True Story of Death and Treasure

Read More

previous book

A Tale of Cannibals, Colonialism, and Michael Rockefeller's Tragic Quest for Primitive Art

Read More